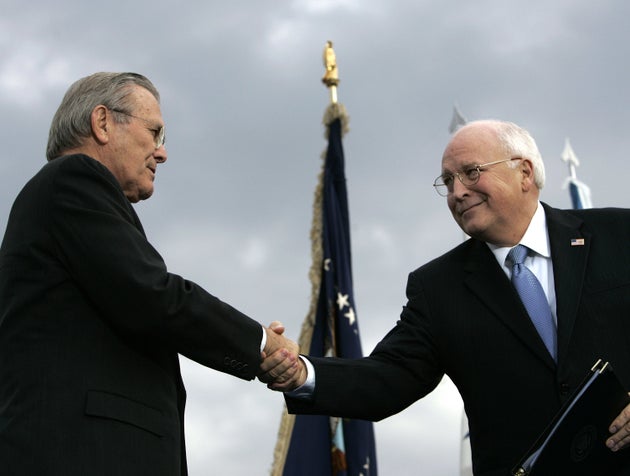 Former President George H.W. Bush takes some unexpected swipes at Dick Cheney and Donald Rumsfeld, key members of his son's administration, over their reaction to the Sept. 11 attacks, in a new biography of the 41st president, Fox News reported on Wednesday.
In "Destiny and Power: The American Odyssey Of George Herbert Walker Bush," author Jon Meacham quotes Bush as saying that Cheney and Rumsfeld were too hawkish and that their harsh stance damaged the reputation of the United States, the cable news network said.
Speaking of Cheney, who was vice president under President George W. Bush, the senior Bush said: "I don't know, he just became very hard-line and very different from the Dick Cheney I knew and worked with," according to the report.
Cheney served as defense secretary during George H.W. Bush's 1989-1993 presidency.
"The reaction (to Sept. 11), what to do about the Middle East. Just iron-ass. His seeming knuckling under to the real hard-charging guys who want to fight about everything, use force to get our way in the Middle East," Bush told Meacham in the book to be published next Tuesday.
Bush believes Cheney acted too independently of his son by creating a national security team in his own office, and may have been influenced to become more conservative by his wife and daughter, Lynne and Liz Cheney, the report cites the biography as saying.
On Rumsfeld, secretary of defense for most of the two terms served by his son, Bush is even more critical. He is quoted as saying: "I don't like what he did, and I think it hurt the President," referring to his son.
"I've never been that close to him anyway. There's a lack of humility, a lack of seeing what the other guy thinks. He's more kick ass and take names, take numbers. I think he paid a price for that. Rumsfeld was an arrogant fellow," he was quoted as saying in the biography.
Fox News quoted Cheney as denying his family had influenced his views, saying: "It's his view, perhaps, of what happened, but my family was not conspiring to somehow turn me into a tougher, more hardnosed individual. I got there all by myself."
Bush's spokesman could not immediately be reached for comment.
Rumsfeld declined to comment on the book, Fox News said.